Customer Reviews
04/15/2020
anton l.
Canada
3D Plex coil is awesome!
Originally purchased the Plexus coil pods, but store only had newer Plex 3D ones in stock. It vapes great and doesn't leak from the bottom like the Plexus one. So definitely recommend getting the newer version.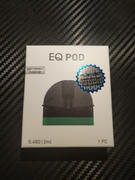 Thanks for your wonderful feedback, Anton. I'm happy to see you've discovered the EQ PLEX3D Pods. A huge improvement, in my opinion. Enjoy!
07/26/2019
vincent o.
Canada
Quick and nice people
Best place to buy from when your local store doesn't have what you need! And you can email your payment if you don't trust putting your card information online!
Thanks for your feedback, Vincent! Our goal is to be your go to shop, so feel free to send feedback to greg@vape360.ca and let us know where we can improve! Enjoy.
Our Promise
Whether you're in-store or shopping online, the Vape360 crew strives daily to meet all your vaping needs. We take pride in providing a clean, welcoming, friendly, and informative vape shop. Our promise to you is that no matter your question, issue, or need, one of our crew members will be present without condescension, judgment, or aggression.
There are no dumb questions at Vape360.
Vape360 Oakville
Our History
We don't mean to brag, but we're 42 in dog years. Starting our first vape shop in Oakville, Ontario, Vape360 quickly grew to become a vaping gem in the Halton Region. After tens and tens of requests, we expanded into Hamilton, Ontario where in our first year, we were voted "Best Vape Shop of 2017." We're thrilled to be a part of your vaping journey and will continue to do our best to deliver the best vaping products and customer service in Canada.
Vape360 Hamilton
Daily Deals
The same flavour at half the cost, STRKE eJuice stays true to their name by striking the price of vape juice! Using the same high quality ingredients as "premium" brands, STRKE eJuice delivers delicious flavours that don't hurt your wallet or coils.